Governing Decline
Changing Patterns of Local Governance in Japan's Peripheries
Background
Aging, depopulation, weak local economies, and insufficient public service provision are a harsh reality in many, if not most rural and semi-urban areas in Japan. Against this background, this project analyzes the emerging of so called "regional management organizations" (chiiki unei soshiki, RMO). RMOs are local self-governing bodies, in which citizens at the sub-municipal level (e.g. school districts, historical towns and villages, etc.) engage in a wide range of activities to substitute public service provision and to devise and implement strategies to "revitalize" their localities socially and economically.
In some areas, RMOs have been active for several decades. Yet, they have received particular attention during the Abe administration (2012-2020), which promoted RMOs with several support programs. Between 2015 and 2018, their number increased from 1,680 to 4,787 (RMO Expert Commission 2016; MIC 2018).
As the responsibilities for "rural revitalization" continue to shift from the central to the local level, RMO are an interesting interface between state policies and civic self-governance. So far, however, the topic has received little attention outside Japan.
Analytical Framework and Research Questions
The project analyzes RMOs as a case of "creative syncretism" (Berk and Galvan 2009). This is a practice-oriented approach to understand institutional change as an ongoing process shaped through the creative recombination of institutional resources. The main research questions are:
How do RMOs operate in practice?
How do residents and local governments build traditional institutions of local self-governance into the formal framework of RMOs?
How do local acts of constructing RMOs relate to macro-institutional shifts, including decentralization and municipal mergers; neoliberal responsibilization of local communities?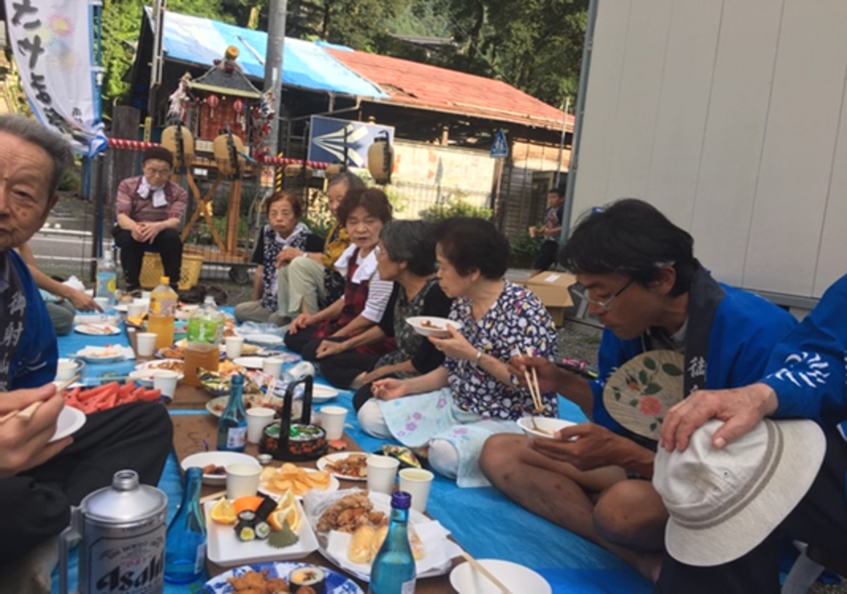 Methods and Data
Two phases of field research in Iida City (Nagano Prefecture, July 2017 and August 2018). Iida is a forerunner in the implemen-tation of RMOs
Interviews with local government officials
Interviews with representatives of the regional management organization in Minami-Shinano (Iida City)
Participant observation in community activities in Minami-Shinano (festival preparation, clean-ups, etc.)
Analysis of research reports on RMOs compiled by the Policy Research Institute of the Ministry of Agriculture, Forestry and Fisheries
Analysis of government reports on RMOs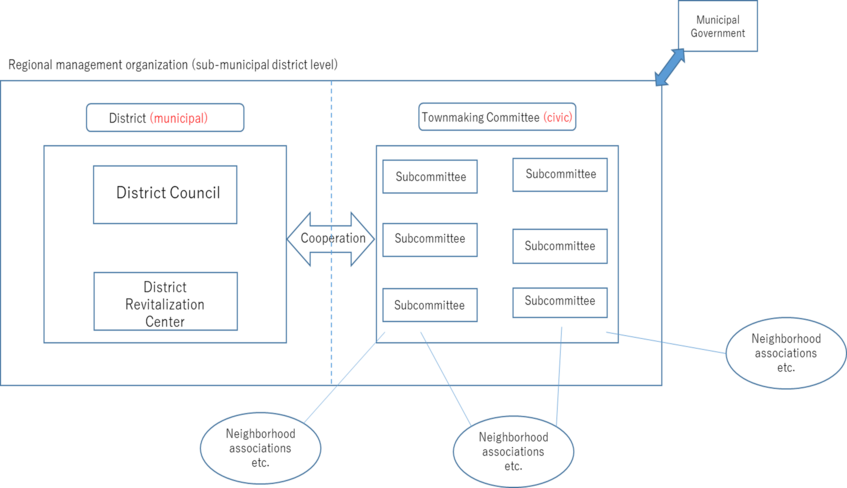 Preliminary Results
RMOs rest on the integration of traditional local self-governance institutions. As such, they not only supplement public service provision, but also the functions of these traditional institutions, which are weakened by outmigration and aging.
While national policies envision RMOs as instruments for the economic revitalization of the respective localities, in practice their functions can differ significantly from national policy objectives.
RMOs also differ from each other (e.g. regarding functions, objectives, local social embedding). These differences can be found even between RMOs which operate within the same municipality.
Rather than a general expression of the "neoliberalization" of the Japanese state, RMOs are distinct local institutional constructs.
References
Berk, Gerald and Dennis Galvan. 2009. 'How people experience and change institutions: A field guide to creative syncretism'. Theory and Society 38/6: 543–580.
RMO Expert Commission. 2016. "Chiiki kadai kaiketsu o mezasu chiiki unei soshiki – Sono ryō-teki kakudai to shitsu-teki kōjō ni mukete: Saishū hōkoku" [Regional management organizations striving for the solution of regional challenges – towards their quantitative expansion and qualitative improvement: Final report]. Tokyo: Cabinet Office of Japan. www.kantei.go.jp/jp/singi/sousei/meeting/chiisana_kyoten/ rmo_yushikisyakaigi/rmo_yushikisyakaigi-saishuuhoukoku.pdf. Accessed 24 September 2020.
Ministry of Internal Affairs. 2018. "Chiiki unei soshiki no jittai" [The state of regional management organizations]. www.soumu.go.jp/main_content/000607338.pdf. Accessed 24 September 2020.